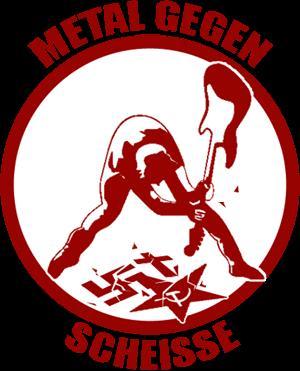 | | | |
| --- | --- | --- |
| Besucher:32749 | Heute: 2 | Online: 1 |
AB SOFORT KÖNNT IHR UNTER NEUIGKEITEN ALLE AKTUELLEN REVIEWS NACHLESEN
Letzte Aktualisierung 20.5. 2013 13 Uhr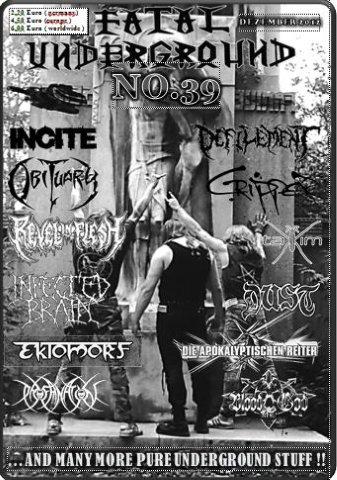 FATAL UNDERGROUND NO.39
out
now!
Crawling from the depths of underground
...to hail and support the metal sounds.Written in german and b/w copy layout on over 180 A5 pages .NO.39 featuring in depth interviews with OBITUARY ,INFECTED BRAIN ,DEFILEMENT,REVEL IN FLESH ,DUST,PROFANATION, APOCALYPTISCHE REITER ,BERKOWITZ ,CRIPPER ,PE SCHOROWSKY ,VAST & VOID PROMOTION ,BLOOD GOD ,KILLING AGE ,EKTOMORF…...
Beside many live reports you find a lot of reviews and many other
pure undergroundmetal stuff !
You can order it for : 2,20 Euro( germany ) ,4,50 Euro ( Europe ) , 6 Euro ( worldwide )
Mario Klein ( LEO ) Zerbster Str.23 Dessau 06844 germany
fatalunderground_leo@freenet.de
SUPPORT THE REAL UNDERGROUND !
FATAL UNDERGROUND Nr. 40 ERSCHEINT IM JUNI/JULI .DIESMAL GIBTS INTERVIEWS UNTER ANDEREM MIT DESERTED FEAR , SUCKING VOID , CAUSE OF DIVORCE ,UNREST ,CHAPEL OF DISEASE ,INGE & HEINZ ,PSYCHOMANTUM ,EISENBLATT FANZINE ,CRYPTOPSY ,DRONE,DIVA KOLLEKTIV....